People & Culture is one of Boreo's strategies. No goal will be achieved, if we do not have talented people working with us and if they are not willing to do their best. By deploying a systematic People & Culture strategy, we ensure success of our businesses, outcompete competition and help our people to cope with changes in their daily life.
Main objective
The objective of our People & Culture strategy is to make Boreo the best home for our personnel to Grow and Prosper. We believe that when our people are happy and succeed in their work, our business targets will be achieved too.
Focus areas
In order to reach the objectives of our People & Culture strategy, we have defined five focus areas which are in the core of what we do. These are the areas in which we want to excel and which we prioritize.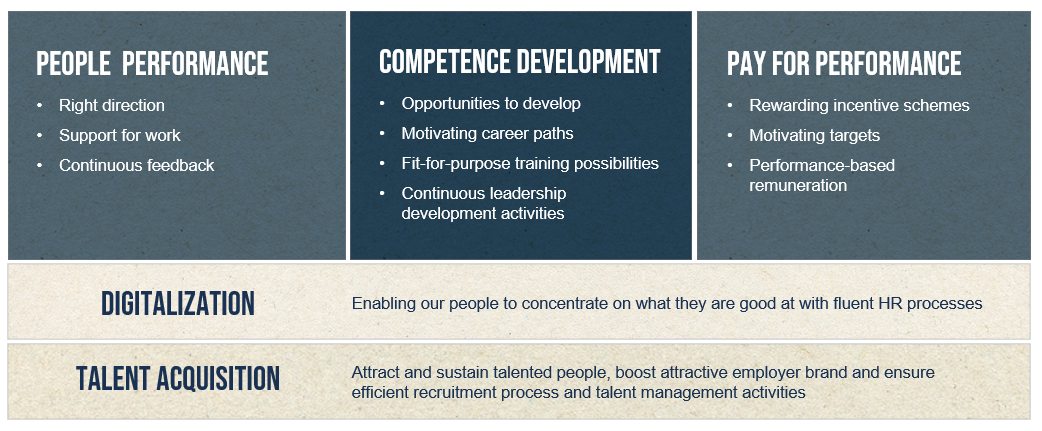 Boreo value proposition
For an employee, Boreo as a group can offer diverse possibilities for learning and career development. We assure that everyone joining Boreo will be warmly welcomed and straight away feel the casual and family-like culture and atmosphere we have in our organization.
We conduct annual personnel surveys and systematic eNPS (employee Net Promoter Score) surveys which help us to understand the state of our employee experience. On the basis of these surveys, we are able to develop our practices and culture to meet better the needs of our personnel.
By defining the Boreo value proposition, we aim at crystallizing what we can offer for our personnel and for possible new candidates and why they should join the Boreo family.